Cooper & I recently made the commitment to check a box on our bucket list and headed to Tulum, Mexico. I've never used my passport, and I was tired of reading all these blog posts about the incredible fishing all over the world. I was tired of seeing my Facebook explode with endless enthusiasm for wanderlust, and not really getting it.  I figured Mexico would be an easy start. We booked our stay in Tulum. Tulum was an EASY 2-hour drive south of Cancun airport. I would describe Tulum as an up and coming yoga lovers destination. Think of vegan options,  naked meditation on the beach, and massage with aromatherapy and ginger tea to boot.  But let's get back to fishing.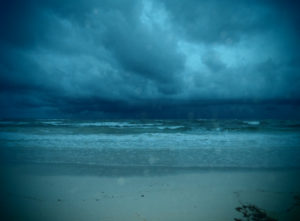 I'll keep it real, it was raining 8 out of the 10 days we stayed in Mexico. (October is rainy season in the rainforest! Lesson learned). 
It was a bit rough to say the least. I have never felt so gross. All of those authentic thatched roofs were straight leaky; so everywhere we went, the water followed. That has to count as some sort of mermaid spa treatment to be wet for 7 days in a row. My clothes smelled moldy and we ran out of dry towels in our hotel room. Anyways, the first day we tried to get out to fish, our guide Rhett, showed up in a downpour at 5 in the morning. He came into our musty hotel room and said, "there is no fucking way." The surf was huge and not looking to settle anytime soon. He then told us a story of a Navy Seal he has taken out fishing in this kind of weather who, "loves this kind of shit."  I am tough, don't get me wrong, but I am not even close to Navy Seal ready. Mission aborted. I love guides and their stories. *Book idea: Guide Stories from the U.S. and Beyond. Call a publisher!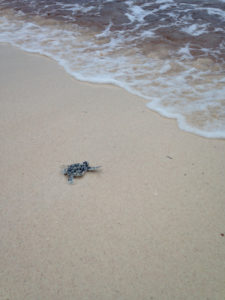 We waited a couple days and in the meantime; we paddle boarded in private cenotes, swam in cenotes, learned about pesos, walked the beach for miles, saw sea turtles hatching on the beach ( Sea turtles hatch randomly throughout October), and stuffed our faces with more guacamole than what seemed humanly possible. Nonetheless, we were getting a little stir crazy. Both of us had researched the fishing reviews and were itching to get out there!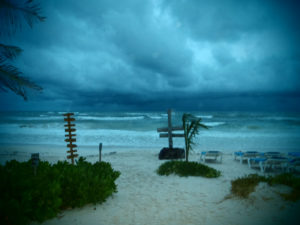 Cenotes are these incredible limestone sinkholes in the jungle. Many are filled with fresh water and some are filled with brackish water depending on their proximity to the ocean. Some are open air and some are caves. One of the cenotes we visited in an intermittent rainstorm, I saw a tarpon roll in. I asked Rhett about it, and he said with all the rain it wasn't uncommon for ocean fish to find their way into the mangroves for some reprieve. Too bad "no fishing" signs hung all over the place. If they take the trouble to write it in English, I'll abide. Plus, I don't know enough Spanish to ask if I can peso my way in with a fly rod to do some catch and release. I think we paid 100 pesos to paddle this cenote, and the gentleman even carried my board to the water for me! Cooper had to carry his own. *life goal: learn more Spanish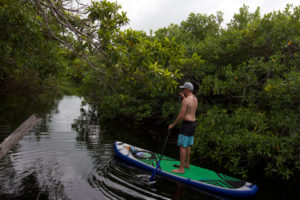 Finally on day 8, the sun came out and Rhett was ready to take us fishing.YAAAAYYY!!! We went to the Sian Ka'an biosphere.  We drove the infamous dirt road, and yes it was pretty rough. Although not quite as bad as imagined, I still wouldn't want to take anything less than a truck or jeep over some of the bigger pot holes.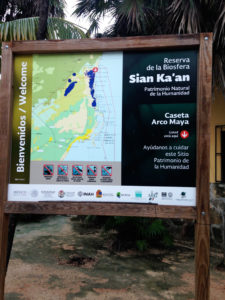 The surf was still a little testy, but wadeable. It kind of reminded me of high school when I would intentionally jump in moshpits just because I was in the mood to YOLO and see what would happen. You get pushed around, but it's really not as aggressive as it looks from the outside.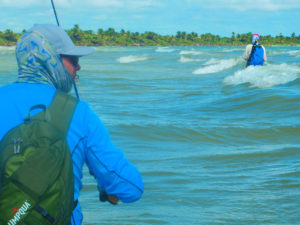 Rhett talked about the resident crocodile that lived in the area right before he has us wade through the jungle and into the ocean. I caught a glimpse of what it might be like to be a client of mine coming to Colorado for the first time. I talk about bears freely and then immediately proceed to walk through thick service berry filled brush ( aka: bear food) on the way down to the flowing river and say "let's get in!" The unknown keeps it exciting to say the least!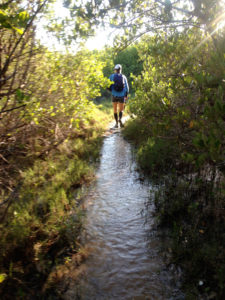 We fished a righteous spot where the cenote water flushes out of the jungle just like a mouth of a river meeting the ocean.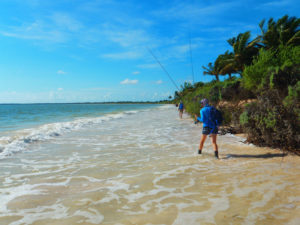 We walked on this untouched beach for hours.We followed the edge of the murky water and looked for tarpon and snook paying attention to the bait fish that we would see jumping and scattering. We fished an 8wt & 9wt rod. Our leaders were shorter per Rhett's suggestion; we hand tied the leaders with about 4 ft. of 30lb to a 2ft section of 40lb bite tippet.  ( Thanks Nate Dogg for letting us borrow your rod!)Then we waded into the mouth of the cenote flush and blind casted in the murky water.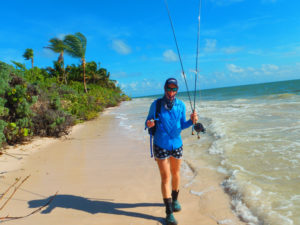 Every once in awhile I would hear Rhett get super excited about something that I didn't even come close to seeing. A permit, a jack, a big flash. I believed him every time, again, it's really the same way in Colorado. I spot fish all the time that my clients don't see. This is his spot. I loved fishing with someone who LIVES his passion guiding out on the water. Maybe half way into the trip, Cooper hooked up with a snook! AWESOME!Not 5 minues after he released his fish, I hooked into mine. Really, this was ALL we came for! And it finally happened. It was a happy moment to say the least. We both caught some decent fish, and the trip was not for nothing. I think I will remember this snook forever, because I had to work so hard for it. I had to battle the rain, Montezuma's revenge, a dirty hotel room, and my sanity while waiting to get a rod in my had, and FINALLY I caught a break.  Cooper hooked up a couple more times before we called it a day.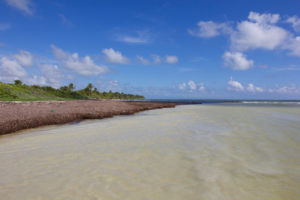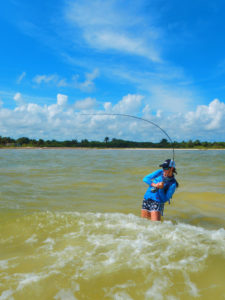 If you find yourself in Tulum, Playa del Carmen, or Cancun, look up Akumal Fly Fishing. Rhett is exactly the kind of guide I would recommend to anyone. He is passionate, honest, friendly, animated, and prepared.  Did you know you can buy bags of half-popped popcorn?!? Rhett has the hook-up on fishing and half popped-popcorn. But sorry ladies, he has a girlfriend too.



We wore wading socks and Keens. This was Cooper's brilliant idea, and I am happy to say it worked well! It felt nice to take them off too.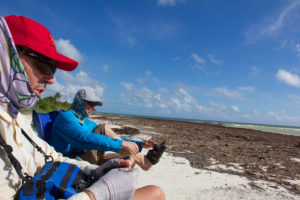 Cooper & Rhett at the lunch spot on the beach.